Bravo Glam Lelaki.
Typografi Didot kuning
on B/W image is just brilliant
. Bagi siapa-siapa sahajalah yang kenal dan tahu kewujudan saya ni, Rizal Yaakub
would agree if I say that I am really obsessed with fashion Magazine especially menswear magazines
. Fikir-fikir balik bukannya mampu pun nak membeli,
seriously
dengan harga sepatu tods (Bak kata Wirda Adnan) mencecah RM2000, saya mati hidup balik 24 kali pun belum tentu saya mampu membelinya. Kalau sekali pun mampu membeli,
I doubt I'll even wear it on the street
, hidup memang dalam ketakutanlah, manalah tau di hari-hari mulia berjalan-jalan dekat the curve suddenly tercelup lumpur ke, kena gelek kereta ke? Kena pijak anak-anak kecik yang bermaharajalela kat situ ke?. Memang tak duduk diamlah kalau kena macam tu, memang alamat kena sepak terajang, siku-siku sikitlah siapa-siapa yang
victimized
sepatu Tods (Sila rujuk Wirda Adnan) saya. So sebagai rakyat Malaysia yang berwibawa bagi mengelakkan berlakunya sebarang perkara yang tak diingini, saya dengan ini tidak akan membeli sepatu Tods, ceh.. padahal memang tak mampu.
Memang jauh mengarut, berbalik dengan fashion magazine.
The main reason of my pure obsession is because of the content of the magazine
. Silalah
compare Malaysia magazine and international magazine you can see the differences. Publishers in Malaysia is more concerned in making their magazines very expensive and avant-garde looking hence the unreasonable editorials which features products that you could never possibly afford in million years
.
Corum Admiral's Cup Competition 48. RM 27, 100 Biar benar?
However
kalau kat London, Stockholm and etc majalah diorang dibuat memang mesra pembaca, dengan mencampurkan barang-barang yang mampu dibeli dengan barang-barang yang mati hidup balik empat ratus kali masih tak mampu beli dalam editorial mereka.
I love the technique used by these brilliant publishers to make the readers very much attached emotionally to the magazines
. Cayalah!
Tak percaya tengoklah sendiri.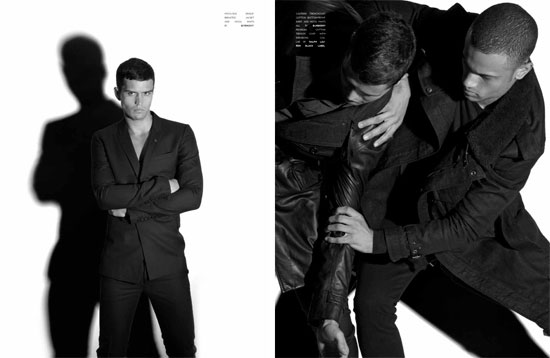 Tampak mahal, boleh di beli di vintage store( ceh padahal bundle).
Simon Nessman and Joey Kirchner and another man in Givenchy (memang tak mampulah, tapi baju hitam Joey(lelaki kiri) boleh je beli kat Tesco, RM8.00.


Sekarang dah tengok, terus rasa horny nak pergi beli magazine
Arena Homme +
. Doa-doalah sangat Wirda Adnan akan terbuka pintu hatinya untuk buat magazine Glam Lelaki for miskin readers
savvy
.
Amin.