Tragedi kembali lagi. Bagi yang rajin membaca post sebelum ini, kini terbukalah dada ini buat kamu, diri ini memang sangat bengap akan matematik, hari ini saya dengan sukacitanya telah berjaya mengakibatkan shortage duit sebanyak Ringgit Malaysia 8.90. Thanks, gaji aku dua jam berdiri macam tiang bendera bermuka plastik. Apa kebengapnya matematik aku, bila crew leader bagi tahu dalam tona yang penuh aspirasi kemelayuan asli,
"Rizal, kaunter awak kekurangan sebanyak RM8.90 ya" sambil jari jemari terus meraba-raba mesin gabak yang masih lagi menggunakan teknologi zaman mesir, zaman jahiliah.
Pada waktu pemberitahuan notis ini, diri masih sibuk menyumbat serpihan-serpihan jagung stim ke dalam mulut tanpa segan silu, lantas menjawab,
"Wow, kini saya rasa lebih mulia selepas beramal soleh dengan menyumbangkan gaji dua jam yang penuh pancaroba kepada Golden Screen Cinema!, kini diri ku begitu berharga. Berkobar-kobar esok nak buat overtime sampai lusa, tak nak tidur."
Whateverlah.
So hari ini tiada yang menarik kecuali makcik tua ratu fesyen, dan YA! beliau bukan makcik caucasian seperti diperkatakan dalam post yang lalu. Kini makcik penuh berbeza. Lebih tua, lebih beruban! Kalau orang tua-tua cakap, spesis-spesis kehidupan yang hidup ala ala
rumah kata pergi, kubur kata Oh my baby come to me! .

OK Wait! Wait! Wait!., apa kejadah aku kini menjadi semakin obses akan makcik tua tua raya?
Serious mak cik tua ini sangat special, cara pemakaian dia sangat unik, tidak seperti mak datin-mak datin yang lain, beliau hanya mengenakan blouse ala ala baju kupu-kupu berwarna hitam dan berlegging hitam, dengan sedikit perhiasan jed hijau di leher dan seutas jam tangan Gucci Chionado, jam yang kelihatan seakan-akan hiasan tangan, tetapi sebenarnya adalah mesin ATM bergerak, alah kalau tak cukup duit nak belanja dekat Tesco bulan ini, boleh saja digadai dengan jayanya.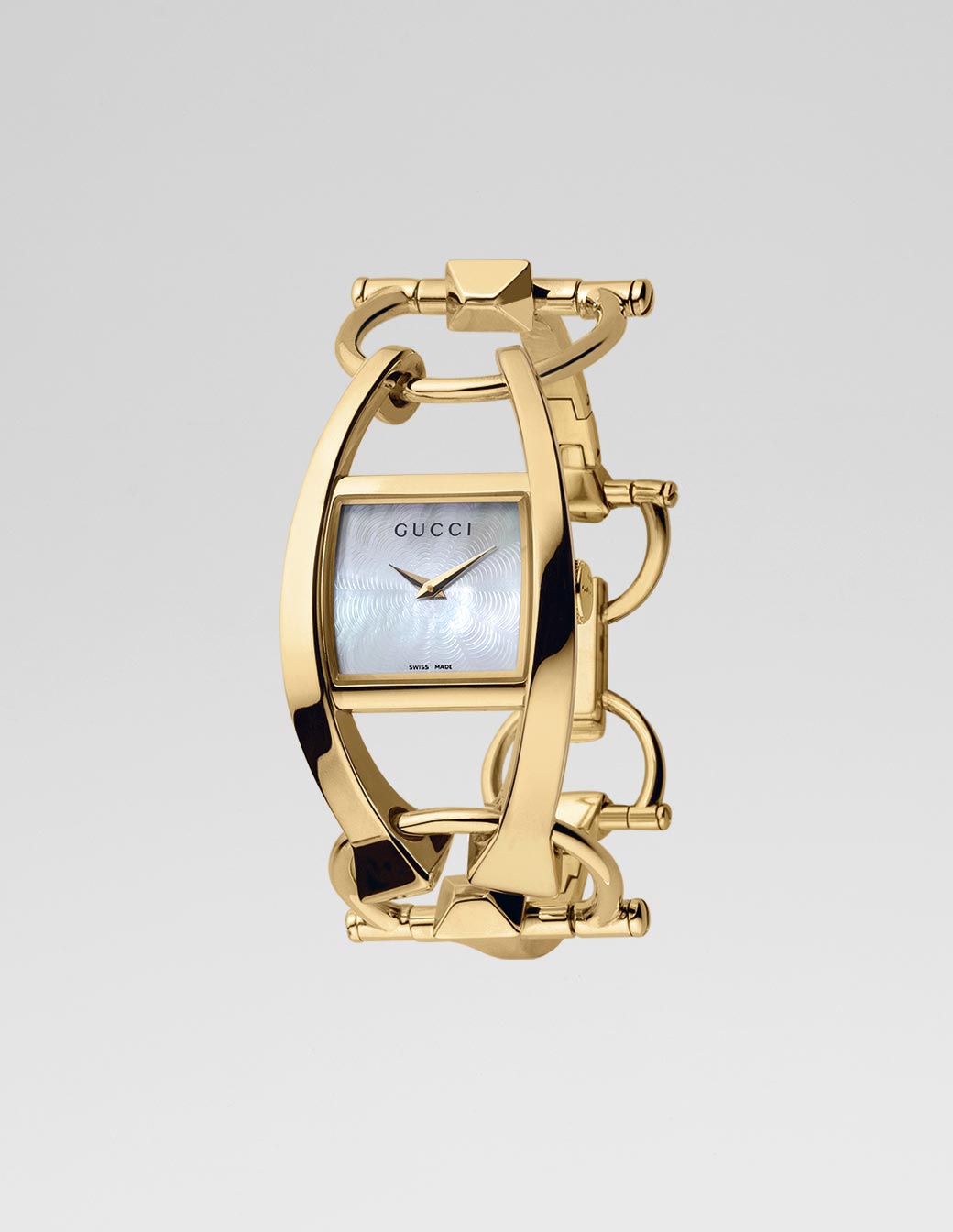 Jam tangan Gucci Chionado
Tak kiralah secara Al-Rahnu ke, Along ke, asal suka hati. Dengan tag harga permulaan sebanyak Dolar US $$9,975, bukan sahaja buang pinggang yang harus dijual, malahan lemak gemalai anak-anak serta rakan taulan harus diperdagangkan.
Bukan sahaja beliau berbau Chanel No 5. Yang perlu diambil penting, cara pemakaian rambut mak cik tua yang spesial ini, mak cik ini mengikat rambut ketat, sleek kemain, penuh kelembutan gitu. Tengok dia teringat koleksi ni,
Oh my mak cik! Seriously I honestly think that any human creatures with a set of vagina and perfectly fine buxom should flaunt this hair style. Kau pakailah karung guni ke, baju keselamatan ke, kain kapan ke, bunting Giant ke, dengan rambut sebegini kemas, you will always look stunning. betul..
Tak percaya sudah!
Nota kaki : Kenapa muka mesti berminyak-minyak kalau kerja lama lama, mentang-mentanglah aku kerja goreng nugget, kau keluar banyak-banyak agar boleh jadi minyak mengoreng. Tak suka.